If you're looking to stay cool during summer, there's no shortage of air conditioning options to choose from. For a long time, evaporative air conditioners have been the technology of choice for homeowners in Adelaide. Powered by simple mechanicals and basic principles, evaporative coolers provide plenty of cooling power without consuming large amounts of electricity. Evaporative coolers come with a few limitations, and people often wonder how well they perform on those sweltering humid days. In this article, we're going to discuss evaporative cooling on humid days and how you can improve the performance of your system.
How Does Evaporative Cooling Work?
Evaporative cooling works through the process of evaporation. In an evaporative cooler, the air is drawn through wet filter pads. The water in the pads absorbs heat from the air and evaporates in the process. This lowers the temperature of the air. The cooled air is then blown into your home and distributed throughout the property by ductwork in the ceiling.
If you've ever noticed that the wind seems colder when your skin is wet, that's evaporative cooling in action. It's an incredibly simple principle that humans have been using to stay cool for thousands of years. These days evaporative coolers are a highly effective alternative to refrigerated air conditioning. If you live in the right type of climate, an evaporative cooler is the most efficient and economical way to stay cool during summer.
Evaporative Coolers On Humid Days, How Well Do They Work?
Modern evaporative coolers are considered to be most effective when the outside air is hot and the humidity is below 30%. Your evaporative cooler will continue to work even if the humidity climbs between 30-50%, however, its performance will be reduced. If the humidity rises above 50% then you are better off using refrigerated cooling if possible.
Evaporative cooling systems rely on a steady supply of dry air to keep your home cool. Under ideal conditions, an evaporative cooler can produce a temperature differential of around 14C. As long as the relative humidity is low, your indoor temperatures can remain comfortable, even on scorching summer days. In Adelaide, we're lucky to have mild summers and low humidity levels. That means evaporative coolers are effective throughout most of the summer, and your system will only struggle on particularly humid days.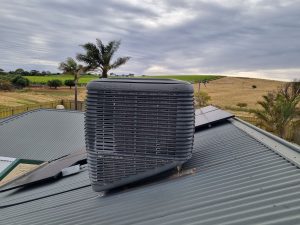 Tips for Improving the Performance of Your Evaporative Cooler
In mild climates like Adelaide's, an evaporative cooler is often a great alternative to reverse cycle air conditioning. If you're encountering the limits of your evaporative cooler, there are a few things you can do to improve its performance:
Open your doors and windows to keep the air flowing through your home. Because evaporative coolers create a small amount of humidity, you need proper ventilation and exhaust to get the full effect. Do your best to create cross-ventilation through your main living spaces and avoid closing your doors and windows while the cooler is running.
Choose a unit that is sized correctly for your property and the local weather. Like all types of air conditioners, evaporative coolers come in a variety of output levels. The unit you choose needs to be powerful enough to cool your spaces or it will always struggle when you need it the most.
Run your cooler during the hottest part of the day if you want to see the biggest temperature difference. Evaporative coolers are more efficient when there is a bigger temperature difference between the water and the outside air, so running it in the middle of the day will have the biggest impact.
Start running the cooler early in the morning if you're expecting it to be a hot day. The evaporative cooler will be more effective at removing the heat from your home when turned on earlier in the day. If the building is allowed to absorb heat, the system will need to run longer to achieve a comfortable temperature.
Invest in regular maintenance by an experienced evaporative cooling technician. Although evaporative coolers might appear to be simple appliances, they still need regular servicing to keep them in good condition. An experienced technician will be able to keep your system clean and functioning perfectly, even on the hottest and most humid days of the year.
Book Your Evaporative Cooling Service Appointment with the Air Conditioning Doctor!
Installing an evaporative cooling system is one of the best things you can do to stay cool during summer. Evaporative coolers have their limits, but they're a great alternative to energy-intensive alternatives. If you want to make the most of your evaporative cooler, you need to run it at the right times and invest in a regular maintenance plan by the Air Conditioning Doctor! The Air Conditioning Doctor works all over Adelaide, providing expert evaporative cooling maintenance, repairs and servicing. Our team works with evaporative coolers from most major manufacturers, so we can ensure your system is always in perfect condition. Get in touch with us for a quote or to make an appointment with our evaporative cooling experts!