Services
Inverter Air Conditioning
Cassette Air Conditioners
Privacy Policy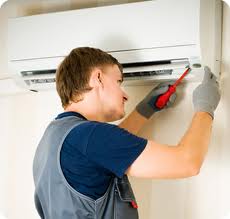 How Does Split System Air Conditioning Work?
Split systems are Australia's most popular type of air conditioning, and they work based on the same refrigeration principles as ducted systems. In cooling mode, warm air from inside your home is drawn into the air conditioner indoor unit where it passes over the coil which is filled with refrigerant. The refrigerant absorbs the heat and some of the moisture from the air passing over the coil. This refrigerant is then pumped to the outside unit where it rejects the heat, condenses and changes the state of the refrigerant and then sends it back to start the journey again.
The popularity of split systems comes mostly from their size and affordability. With two components that only need to be joined by interconnecting pipes and electrical cabling, split systems can be installed in almost any room. While they are less powerful than larger systems, split systems are an efficient way to cool individual spaces in the home without breaking the bank.
Common Air Conditioning Faults
With hot summers and cold winters, Adelaide residents love their split system air conditioners. Keeping your house heated and cooled makes life much more comfortable. But the systems in your home need regular servicing to ensure they're working when you need them. Air Conditioning Doctor recommends servicing split system air conditioners once per year, especially before they get a workout during summer.
If your air conditioner isn't working properly then it may be due to one of these common faults:
Dirty filters
Mold build up on the indoor coil and blower wheel
Faulty circuit boards, thermostats or temperature sensors
Refrigerant leaks
Blocked or dirty evaporator or condenser
Clogged drains
Burned-out motors
Electrical faults
When in doubt, switch your air conditioner off and contact a qualified air conditioning technician for help. Running your system while it's experiencing a problem could turn a minor issue into a major repair.
Split System Air Conditioning Maintenance
Our technicians carry a wide range of tools and spare parts to service Australia's most popular air conditioning brands, including Daikin, Fujitsu, LG, Carrier, Toshiba, Mitsubishi and more. We are equipped to provide comprehensive servicing and repairs, including our regular maintenance program. Regular maintenance is the best way to keep your air conditioner running better for longer.
Our scheduled maintenance program includes:
Checking all system functions
Cleaning or replacing filters
System and electrical testing
Checking refrigerant charge
A full report upon completion
Not only does regular maintenance keep your systems healthy, it means we can spot small issues before they develop into larger problems.
Qualified Air Conditioning Technicians
Whether you are due for regular maintenance or a major repair, Air Conditioning Doctor can help. Our qualified technicians understand that your time is valuable and always make sure to arrive on time for appointments. All faults are inspected carefully and we provide customers with a detailed estimate before any additional work begins. Before we leave we test your system to make sure it functions properly and then clean up the worksite to leave you with a safe and tidy home.
Call us now if you'd like to book an appointment for repairs, servicing or regular maintenance of the split system air conditioners in your home.
Air Conditioning Doctor provides split system air conditioning services, maintenance, coil cleaning and replacements to homes and businesses across the Adelaide region.