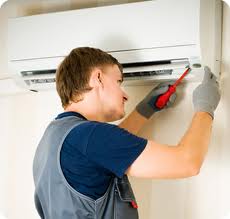 Our highly trained technicians are experts in all major brands including Daikin, Fujitsu, LG, Carrier, Toshiba, Mitsubishi and others.
Split systems also known as hiwalls, are a popular heating and cooling solution and come in all types of configurations. Whether it's a single head or inverter unit our highly trained technicians will repair your system with the minimum of fuss.
Need a split system serviced?
We service a wide range of split systems. Call us now to discuss your requirements.
Need a repair?
Call our friendly service manager to make an appointment that is convenient for you!
We recognise that your time is valuable! Our reliable, expert technician will turn up promptly as promised. He will inspect the system and provide you with a written report on how much it will cost to fix it. Once approved we will repair the unit as quickly and conveniently as possible.
We also make sure that we leave the worksite clean and tidy!
We cover all of the Adelaide metropolitan areas.
Call us now to make a booking on 1300 723 413!
Air Conditioning Doctor Preventative Maintenance Program includes…
removing and hygenically cleaning the pads (replacement if necessary)
thorough clean of the units' sump, fan, water pump basket and all accessories
check and adjust the water level if necessary
thorough check of the unit and all it's operating systems
Call us now to book your preventative maintenance appointment!