Leading Air Conditioning Services in Richmond
Look no further than Air Conditioning Doctor for the best air conditioning services in Richmond! Our team of experts offers air conditioning maintenance of the highest standards, with services perfect for those needing home AC repair, Coolbreeze service, or any other AC service and repair you can think of.
We specialize in servicing evaporative coolers, high wall split ACs, ducted reverse cycle heating and cooling systems, and gas ducted heating. Our maintenance team is always on hand to ensure your investment lasts. When servicing units, we only repair and replace with brand-new quality parts.
We not only offer our customers excellent advice and service but also competitive prices that rival those of other local air conditioning companies.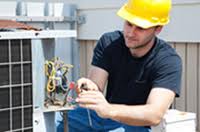 Are You Looking for Air Conditioning Services Near You?
Air Conditioning Doctor has qualified HVAC service technicians available to service any Richmond resident or business. Having an AC unit that works properly is imperative for the warm summers in Richmond. We can ensure that this vital component of your home is always up and running at optimal performance. When you choose us for regular maintenance of your unit, you're sure to have a system that will last for years to come.  
You should first look for a reliable AC service about a year after getting your unit installed. You shouldn't neglect the importance of servicing as it can save you a hefty amount of money as air conditioning repair can sometimes be more expensive than a service. Consult one of our experts here at Air Conditioning Doctor to inquire about checking if your unit is functioning properly.
Need Ducted Air Conditioning Services You Can Trust?
The one thing that everyone needs from a trustworthy air conditioning service in Richmond is ducted AC care. When you choose us for ducted air conditioning services, you're going with a company dedicated to giving you climate-controlled comfort.  
A ducted AC unit gives homeowners a system that's easy-to-use with a design that doesn't interfere with your furnishing or decor. It's an efficient system that allows you to cool and heat your home through one simple and central system. We'll ensure that the AC repair and maintenance we provide leave your unit working like new.
Why Choose Us?
Choosing Air Conditioning Doctor means that you can rest easy. You'll know that your appliance is in good hands. We handle all of our customer's systems with care and maintain them with tools that are of the highest industry grade.
Air Conditioning Doctor is an ARC-certified and approved company, made up of a team of experienced experts. If you need evaporative coolers, high wall split air conditioners, ducted gas heating, or ducted air conditioning services in Richmond; then you know who to call! Contact us today!
Proudly Serving Richmond
Richmond is an inner urban suburb of Adelaide, South Australia. It is located in the City of West Torrens. It was named after the first farm that was established in the area in 1839, owned by Charles Gooch. The most notable green spaced area in Richmond is the Richmond Oval, on Milner Road. Currently named City Mazda Stadium, the 16,000 capacity venue has been the home base of the West Adelaide Football Club since 1958. Air Conditioning Doctor has been serving Richmond since starting up and have become the leading air conditioning experts in the area.