Services
Inverter Air Conditioning
Cassette Air Conditioners
Privacy Policy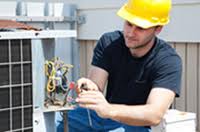 What is Ducted Heating?
Adelaide locals are no strangers to a chilly winter. As the mercury drops and biting winds roll in off the Bight, many of us reach for heaters as the best way to keep our homes feeling toasty. Ducted heating systems have only grown in popularity over the years, offering one of the simplest and most energy-efficient ways to heat an entire home. Using a central heating unit, ducted systems draw cold air from inside the home, pass it through a heating element and return the warmed air to the zones where it's needed. These systems are simple and flexible, and the ability to section off a house into zones gives Adelaide residents an easy way to control their heating bill by closing off rooms that don't need heating.
There are a couple of types of ducted heating systems available, running on either natural gas or electric reverse cycle air conditioners. Reverse cycle air conditioners work on the same principles as refrigerated air conditioners, only they provide heat inside of the home by removing the available heat from the air outside of the home and transferring it to the refrigerant.
Why is My Ducted Heating Not Working?
When winter rolls around and you reach for the thermostat, it can be frustrating to discover that your ducted heating system has stopped working. The Air Conditioning Doctor recommends customers have their ducted heating systems serviced once per year. Having your system serviced before winter begins ensures you won't run into any unexpected problems when you need your heating to be in top shape.
There are a few common reasons for ducted heating systems to stop working:
Faulty thermostats, temperature sensors and controllers
Refrigerant leaks
Blocked and dirty filters
Burned-out motors and fans
Blockages at the evaporator and condenser
Faulty circuit boards and electrical equipment
Ductwork joints leaking
Ducted Heating Repairs & Servicing
Ducted heating systems should be looked at as an investment in the comfort of your home. The initial installation cost can be high, so it's important to maintain your ducted heating and prolong its life as far as possible. Air Conditioning Doctor recommends a yearly service to find and repair minor issues before they turn into costly faults. The experienced team at Air Conditioning Doctor carries out a full range of repairs, maintenance and servicing of ducted heating systems. We carry a wide range of tools and spare parts we need to repair Adelaide's most popular ducted heating brands.
Servicing and repairs carried out by Air Conditioning Doctor technicians always put our customers first. We understand that your time is valuable, which is why our team makes a point of arriving on time for appointments and providing complete estimates before any additional work is carried out. And, once your service is done, we clean up our worksite to leave your home feeling tidy and safe.
Adelaide's Ducted Heating Specialist
Following a regular maintenance schedule is the best way to extend the life of your ducted heating and enjoy warm air for years to come. Properly maintained systems are also more efficient to run, keeping your heating bills under control during the colder months. Air Conditioning Doctor offers a regular maintenance program, and each service includes:
Testing of all electrical components, thermostats, temperature sensors and controllers
Replacing or repairing faulty motors
Cleaning and inspection of all filters
Cleaning and clearing of drains
Checking refrigerant charge
Leak detection and repair
If you are experiencing issues with your ducted heating system or want to arrange preventative maintenance, please contact Air Conditioning Doctor to arrange your appointment today!
When your ducted heating system needs repairs, servicing or maintenance, Air Conditioning Doctor is Adelaide's expert technician!