Air Conditioning Doctor operates right across the Adelaide region, delivering expert repairs and maintenance of ducted heating and air conditioning systems for all major brands.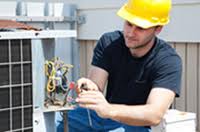 What Causes Ducted Systems to Stop Working?
High-quality ducted heating and cooling systems are usually built to last, but even the toughest units can break down from time to time. Running your system while it is malfunctioning could turn a minor problem into serious damage. If your heating or cooling system is showing signs of failure you should immediately turn it off and contact us for repairs. Some of the most common failures we see are caused by:
Blocked filters
Faulty circuit boards, thermostats or temperature sensors
Refrigerant leaks
Blocked or dirty condenser and coil units
Clogged drains
Burned-out motors and electrical faults
Qualified Ducted Cooling and Heating Technicians
When your ducted heating or air conditioning needs to be repaired, Air Conditioning Doctor's certified technicians are happy to help. Our expert team carries a large range of spare parts and all the tools we need to get you back up and running sooner.
We also recognise that your time is valuable, so we make sure to offer efficient, on-time service, prompt repair estimates and we always leave behind a clean worksite when the job is done.
Our Services
We provide a comprehensive range of air conditioning and heating services to the Adelaide region. Whatever problem you are experiencing, we have the spare parts and services to get you back in business. Our expert team has seen it all and they're equipped to help with system repairs, replacement parts, fault finding, maintenance work and regular maintenance programs.
Regular Maintenance Program
Ducted heating and cooling systems are a major investment and staying on top of the maintenance schedule is the best way to keep them working for longer. Air Conditioning Doctor can take care of those regular upkeep needs with our Automated Maintenance Program that includes:
Checking all system operations and functions
Cleaning and replacement of filters
Electrical testing of the components of the system
Checking refrigerant charge
Provide a report on the completion
Contact our friendly team today if you would like to book a repair or maintenance appointment!