The Ultimate Guide to Gas Ducted Heating
Australia might be known for its hot summers, but some parts of the country also see freezing winters. Many households turn to portable heaters to stay warm in the cold months. That may be convenient, but portable heaters are inefficient and unsightly, and they typically don't provide enough heat for your whole home. That's where gas ducted heaters come in.
Gas ducted heaters are a whole-home solution that provides fast, efficient and affordable heating to every corner of your property. But gas heaters are also an investment, and it pays to do your research before purchasing a system. In this article we'll go over everything you need to know about installing gas ducted heating in your home.
What is Gas Ducted Heating?
Gas ducted heating consists of a central heating unit that is connected to multiple parts of your home using a system of ducts. The central heating unit provides warmth, and the ductwork distributes heated air throughout your home.
How Gas Ducted Heating Works
Gas ducted heaters work using a central heating unit that's installed in the ceiling, under the floor or outside your home. This central heating unit is attached to a series of ducts that lead to one or more "zones" within your house. The heater draws in air from inside the house through the return air filter assembly, passes it over a warm heat exchanger, and then distributes the heated air throughout your home via the ductwork.
The central heating unit is the most important part of a gas ducted heater. In reality, these units are simple devices that burn natural gas or LPG to heat a metal structure called a "heat exchanger." The heat exchanger is a series of metal pipework that transfers the stored heat to the circulating air.
The heat exchanger is kept at an optimum temperature by the burning of gas, which is closely monitored and adjusted by sensors within the unit.
Credit: https://www.northeastheatcool.com.au/
The Benefits of Gas Ducted Heating
If you're looking for a way to keep your entire home warm in winter, it's hard to beat gas ducted heating. It offers a few major benefits when compared to other heating methods:
Instant warmth throughout your home.

Gas heating systems get hot quickly. They can provide heat almost instantly to any part of your home.

No defrost cycle required.

Unlike reverse cycle refrigerated air conditioners, gas ducted heaters never need to do a defrost cycle. They continue heating for as long as the unit is turned on.

Energy efficiency.

Gas heating is far more efficient than electric heating. About 90% of the energy stored in natural gas is converted into heat. This means gas ducted heaters consume very little gas for the amount of warmth they provide.

Zoning controls.

The major benefit of ducted systems is the ability to service multiple zones at once. Gas ducted heaters with zoning controls allow you to choose which areas you want to heat. This saves money on heating costs when you are only using one or two rooms.

Models for every budget.

Manufacturers now offer gas ducted heaters in a huge variety of power outputs. That means it's possible to find a heater that suits your home and budget.

Smart thermostat features.

Modern ducted heaters generally come with built-in smart features, such as programmed  heating cycles. These features are a great way to save money and they make it easy to keep your home comfortable.

Low maintenance requirements.

Gas ducted heaters are simple appliances that only need annual servicing.
What is Required to Install Gas Ducted Heating?
Gas ducted heating is a great option for most homes in Australia. The only major requirement is that your home needs a natural gas connection to power the heater. Alternatively, some gas ducted heaters can run on refillable LPG gas bottles, making them the ideal choice for remote properties.
Other than gas, you'll also need space in your ceiling cavity or beneath the floor to run ductwork. Gas heating ducts are relatively small (compared to refrigerated air conditioning ducts) and can be installed in most homes. You'll need to consult your installer to find out if your property has sufficient space to install ductwork.
Major Gas Ducted Heating Brands
In Australia, we have access to products from some of the world's leading gas ducted heating manufacturers. There are many brands available, but several manufacturers stand out for quality, service and product longevity:
Rinnai and Brivis.

Rinnai

now owns

Brivis

, and both manufacturers produce leading gas ducted heaters. Rinnai and Brivis heaters offer world-class features and energy efficiency, making them some of the best options on the market.

Bonaire.

Bonaire

gas ducted heating systems are a high quality and highly versatile option for most homes. Bonaire's heaters also come with cutting-edge efficiency technology, making them some of the highest performing systems on the market.

Braemar.

Braemar

offers 100% Australian made gas ducted heating systems. They offer high quality products and fantastic, local support, which makes Braemar a good choice for your heating needs.
The gas heaters on the market are all very similar. The main differences between manufacturers is energy efficiency and after-purchase support. We typically recommend Rinnai systems, but alternative products are a better choice for some homes.
Common Gas Ducted Heating Problems
Gas heaters are simple appliances. They have very few moving components, which means most systems last for 15-20 years with regular maintenance. However, gas ducted heaters burn natural gas or LPG, which can pose a serious risk to your family if a leak develops.
You should keep an eye on your system throughout the year for these common problems:
System won't turn on

Temperature fluctuations

Burning smell coming out of the ducts

Rotten egg or natural gas smells coming from the system

Unusual noises from the central heating unit

Pilot light burning orange
It's important to note that natural gas and LPG pose serious health and fire risks. If you notice an unusual smell around your home, switch off your heater and contact a professional immediately.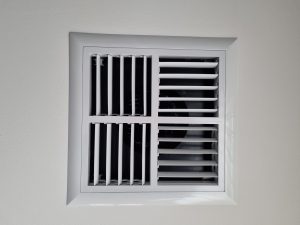 How Often Does Gas Ducted Heating Need to be Serviced?
Gas ducted heaters need to be professionally serviced every 12 months. You may need more frequent servicing if you live in a cold or dusty climate, or if you use your heater frequently.
As part of your regular servicing, a technician will check the system, clean the filters and test each component to ensure it's working properly. These simple checks typically take approximately 60 minutes to complete, but they allow us to identify small problems before they turn into major repair bills. Regular servicing also reduces your long-term running costs, increases the lifespan of the heater and protects your manufacturer's warranty, so it's one of the best investments you can make.
The Air Conditioning Doctor Provides Servicing for Gas Ducted Heating Adelaide Wide!
It's easy to stay warm in winter with a gas ducted heater. With the power to heat your entire home instantly, ducted gas heating is the best way to stay comfortable year round. If you want to get the best performance from your gas ducted heater then you'll need regular servicing from the Air Conditioning Doctor!
The Air Conditioning Doctor works across Adelaide, providing fast, efficient and reliable gas ducted heating services. We maintain, service and repair gas ducted heaters from most manufacturers, including Rinnai, Brivis, Bonaire, Lennox, Carrier and more. Our technicians come equipped to handle regular maintenance and many repair tasks on the spot, so we can keep your system in top condition. Contact us today to book your next maintenance appointment, or speak to our team if your system needs repairs.