Services
Inverter Air Conditioning
Cassette Air Conditioners
Privacy Policy
Quality Air Conditioning Repairs in Campbelltown
Air Conditioning Doctor has the experience and expertise to assist with all of your air conditioning repairs in Campbelltown. When your air conditioner is on the fritz, we have the tools to efficiently and effectively fix the problem.
We're proudly ARC-approved and widely accredited for offering excellent, dependable air conditioning repair services. Whether you're wondering, "where's an air conditioner repair near me", or are looking for a full Coolbreeze service and repair, we've got you covered!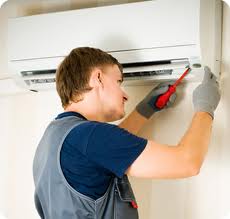 Common Types of Air Conditioning
Reverse Cycle: If you're looking for local air conditioner repairs for your reverse cycle system you can trust in us. Our team will give your unit a complete servicing check, looking into every detail to locate the issue.
We suggest that all our customers schedule maintenance checks annually; including those with reverse cycle systems. This will reduce the chances of your unit failing or breaking down due to a part failure, clogged filter or simple old-age. Our comprehensive maintenance checks typically last between half to one hour depending on access to the appliance  – we'll be in and out in a flash leaving you to enjoy your AC once again!
When your reverse cycle AC system isn't working like it should get in touch with us. We work on all major manufacturers like Samsung, Temperzone, Hitachi, Daikin, Fujitsu and many more. Don't suffer in the heat; call us now for a quick fix!
Evaporative: Evaporative systems too, need annual maintenance checks to ensure they're fulfilling their use and keeping your home and family cool. These checks are important because harmful airborne or waterborne bacteria can easily build up inside your system, which can even cause respiratory issues if left to proliferate.
When evaporative ducted cooling units are faulty or broken, our team are able to handle it. We provide our customers with the highest attention to detail to ensure your AC works as good as new when we are done. We've worked with hundreds of evaporative units and can have yours fixed in no time!
At Air Conditioning Doctor, our full maintenance checks and repairs will help to extend the longevity of your AC and can even reduce your running costs.
Are You Looking for Local Air Conditioning Repairs?
Is your air conditioner not cooling or blowing warm air? Here at Air Conditioning Doctor, we strive to provide the best service for those who are looking for air conditioning repairs. We're a company that continuously proves that we're capable and reliable, and we've happily served Campbelltown's residents and those living in the surrounding area for years.
Campbelltown summers can become unbearable without something to keep you cool at home – and the last thing you want is to suffer in the heat thanks to a broken air conditioning unit. Make sure your system works at full function this summer by choosing us for all of your maintenance and repair needs.
Proudly Serving Campbelltown
Campbelltown is a suburb of Adelaide, South Australia. Campbelltown is 8.7 km north-east of Adelaide. It is bordered in the north-west by the River Torrens, a river that is surrounded by parks and smaller creeks. Campbelltown is named after Charles James Fox Campbell, a pioneer settler in that locality, and is part of the City of Campbelltown. The suburb has only one school, East Marden Primary School. Campbelltown is home to many parks, playgrounds and outdoor sport courts. Campbelltown also has a Leisure Centre with facilities that encompass fun, fitness, swimming, health and entertainment. Air Conditioning Doctor has been serving Campbelltown since starting up and have become the leading air conditioning experts in the area.