Services
Inverter Air Conditioning
Cassette Air Conditioners
Privacy Policy
Cassette Air Conditioning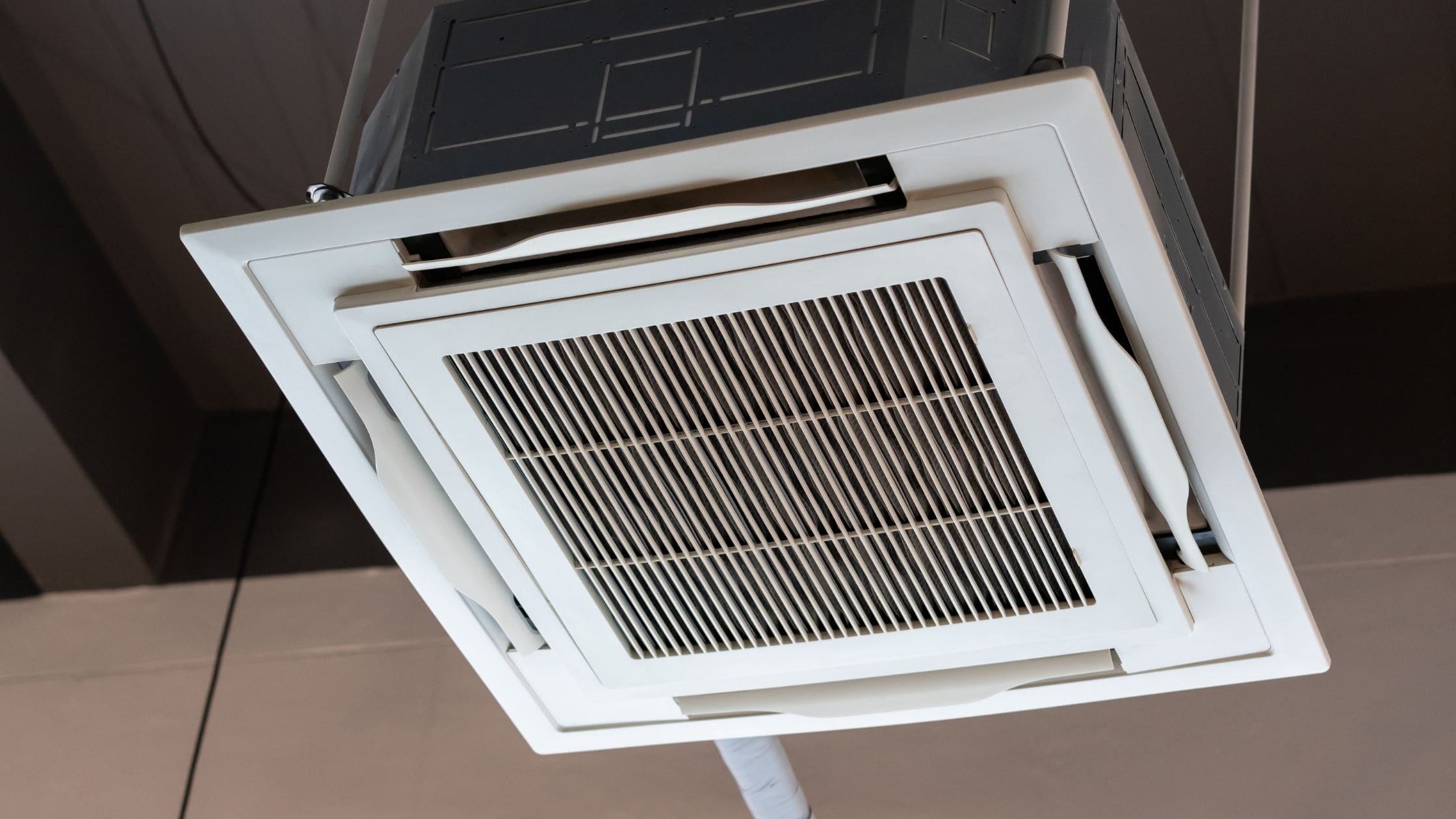 What is a Cassette Air Conditioner?
Cassette air conditioners are a type of split system air conditioning. Like typical wall mounted split systems, cassette air conditioners consist of two main components. For cassette air conditioning, the indoor unit is installed flush with the ceiling, rather than hung on the wall. 
The indoor unit of your cassette air conditioner is connected to the outdoor unit  by a series of pipes. These pipes transport refrigerant which absorbs heat from inside your home and transports it outside to be dispersed into the atmosphere. Because cassette air conditioners work on the same principle as split systems, there's no need for expensive or complex ductwork in the ceiling. Units can also be placed in the centre of a room, meaning cassette air conditioners are often more powerful and well suited to cooling large areas.
Common Problems With Cassette Air Conditioning
Just like regular split system air conditioning, cassette air conditioners rely on regular servicing to keep them running smoothly. Neglect, disuse and simple wear and tear can all cause your air conditioning to break down. Regular maintenance and servicing is your best bet for avoiding major repairs.
If you're experiencing any of the following problems, it's time to contact Air Conditioning Doctor and book a service:
Unit blowing warm air

Low airflow

Excessive power consumption

Faulty blower motors and compressors

Components making strange noise or smells

Leaks coming from the indoor or outdoor units
Cassette Air Conditioner Servicing Adelaide
We recommend having cassette air conditioners serviced once per year to keep them in top condition. Regular maintenance is the best way to get more from your investment, minimise your long-term expense and identify faults while they're minor issues. The Air Conditioning Doctor provides comprehensive servicing for Adelaide's most common brands of cassette air conditioning.
Cassette air conditioning services by the Air Conditioning Doctor include all of the following:
Inspect and clean filters

Test electrical components

Test thermostat function

Test motors and compressors

Check refrigerant charge
Adelaide's Expert Cassette Air Conditioner Technicians
Air Conditioning Doctor offers expert servicing for home and commercial cassette air conditioners across Adelaide. Our team carries most of the tools, equipment and spare parts they need to provide servicing and repairs for most makes and models. Whether you've experienced a breakdown or need regular maintenance, our team will be there to fix the problem and get you up and running sooner. 
We know your time is valuable, so when you book an appointment with our team, we'll make sure to be there on time. Before carrying out any work our technicians provide full estimates for your approval. Once the work is complete, we will tidy up after ourselves to leave your home clean and tidy for your family.
To find out more about our repair and maintenance services, feel free to get in touch with the Air Conditioning Doctor team and book an appointment today.
Air Conditioning Doctor's qualified technicians are available to service residential and commercial cassette air conditioners throughout the Adelaide region.